Welcome to the Vermont Women's Fund Annual Celebration
October 20, 2021
Thank you for joining us!
5:00 p.m.
Pre-event topics

5:30 - 6:30 p.m.
Main program


Please read through to find information on:
Links to log-in to the event
Text to give instructions (and link) to make a gift
Ways to share the love with a #PhilanthroPower selfie


Join the event!
or
Dial In: +1 929 205 6099
Meeting ID: 815 3074 0478 Passcode: 958130
If you arrive at 5 p.m. for the pre-event networking and learning groups, you will be added to your pre-registered room. Otherwise, you can hang out in the main stage and groove to tunes curated by DJ Love Doctor.


Schedule for the Evening
5:00 p.m.
Pre-event networking and learning tables
Hang out with DJ Love Doctor on the main stage
5:30 p.m.
Welcome from Jane Lindholm, Vermont Public Radio
Opening remarks from Meg Smith, Director, Vermont Women's Fund
In Conversation: Jane Lindholm interviews Teresa Younger, CEO & President of the Ms. Foundation for Women
Q&A: Guest questions and comments answered by Teresa Younger
Closing & Networking groups re-open
More details and information are in our event program.


Give to the Vermont Women's Fund
Help us make the Annual Celebration the biggest benefit of the year!
Text your gift on Oct 20th by texting DRIVINGCHANGE to 44321 or
All gifts made before and during the event will be displayed on screen. If you don't want to appear on the donor wall, you can mark your gift as anonymous.
You can give more than once during the program, too!


#PhilanthroPower Selfie
Show what #PhilanthroPower means with a selfie of you holding the postcard that you received - or click on this image to print it out: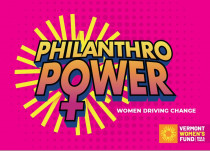 Tag: #PhilanthroPower #WomenDrivingChange @VTWomensFund