Leaders for Equity and Equal Pay Toolkit

LEEP Toolkit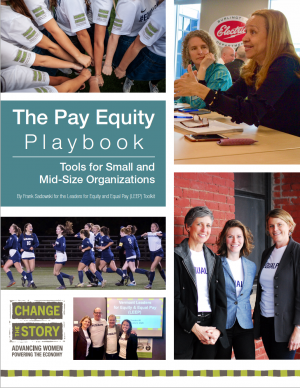 The Leaders for Equity and Equal Pay Toolkit is a free resource to empower small to mid-size employers (any organization with under 400 employees) with the tools to conduct in-house, DIY gender and racial pay equity reviews.
The Toolkit includes the excel-based Equity Management Tool (EMT) and the companion Pay Equity Playbook. We have also included an interactive Compensation Philosophy Worksheet, Pay Equity Plan Template, and Performance Rubric.
The Leaders for Equity and Equal Pay Program
Leaders for Equity and Equal Pay was a first of its kind, cohort-based organizational development opportunity for Vermont employers who sought to be on the cutting edge of pay equity. The year-long learning experience included eight group meetings and three 1-on-1 sessions with individualized support for data analysis and planning. We utilized the cohort model, which fosters peer-to-peer problem solving, group learning, and continued conversation beyond the program. Out of this training came the Leaders for Equity and Equal Pay Toolkit created by Sadowski Consulting Services in partnership with the Change The Story VT initiative of the Vermont Women's Fund, the Vermont Commission on Women, and Vermont Works for Women to fast-track women's economic well-being in Vermont. We trust the Toolkit will serve employers near and far for years to come.
Toolkit Launch Recording
FAQs
Does the Toolkit work for nonprofits? Government agencies? Organizations with unions?
Yes, any organization can use these pay equity tools, regardless of structure.


My organization is very small—it's just me and 3 other employees. Can I still use the Toolkit?
Yes. We encourage organizations of any size to use the tools and input pay data into the EMT. When there are more than 15-20 employees and/or more than one person in the same or relatively similar jobs, the charts begin to reveal patterns you might not readily see otherwise. In your case, the charts might still provide interesting information. Leaders of every organization, large or small, need to determine how they pay people what they do—and why. The Toolkit can help now and as you grow:
The Pay Equity Playbook can help you explore the larger social context of pay inequities and how they develop; define internal equity for your firm; create a compensation philosophy; and learn more about various approaches to compensation, job descriptions, and performance reviews.
The EMT can be an important proactive tool—as you grow and hire more employees, you will want to be sure that those new hires are coming in at wages that maintain your firm's internal equity.
The Worksheets, Rubrics, and Templates are useful tools for organizations of all sizes and structures in considering practices and policies to improve and maintain equity.


I'm not a compensation expert. What kind of skills or knowledge do I need to use the Equity Management Tool?
You don't have to be an expert. If you can use Excel, you can use the EMT. We've created the EMT User Guide: Step-by-step Instructions for Building Great Charts to help you along the way. (There is also a Directions tab in the EMT itself.)

What variables does the Equity Management Tool let me look at? Anything other than gender and race?
The EMT currently includes race, gender, disability, and veteran status. It is possible to add additional identities or qualifications as well. If you want to pay differently based on certification of additional skills, for instance, you could add that dimension to your analysis through the EMT.


I'm a Vermont employer who wants to show my commitment to pay equity. How can I do that?
Sign the Vermont Equal Pay Compact! You'll find it on the Vermont Commission on Women's Equal Pay Compact. You should also, of course, download the LEEP Toolkit, read the Pay Equity Playbook, and regularly use the Equity Management Tool to analyze your pay data in order to achieve and maintain pay equity at your company. If you are not lucky enough to be based in Vermont, check with your state or municipality for similar programs. Boston and Seattle, for instance, both have terrific opportunities for employers to partner in creating more equitable workplaces.


I can't find the email I received with the download link. Can you please resend it?
Our system will only send the download link to an email address once. If you are unable to find the original email you received and are returning to request the download link again, please contact us directly at zpike@vermontcf.org.


I have downloaded the toolkit but I'm having technical difficulties with the files. Who can help me?
Please be in touch with sadowskiconsultingservices.com. They will do their best to troubleshoot with you.


I have more questions!
Download the full sheet of LEEP Toolkit FAQs