The Vermont Women's Fund and the Vermont Community Foundation to Host This Way Up on April 28th to Focus on Women Entrepreneurship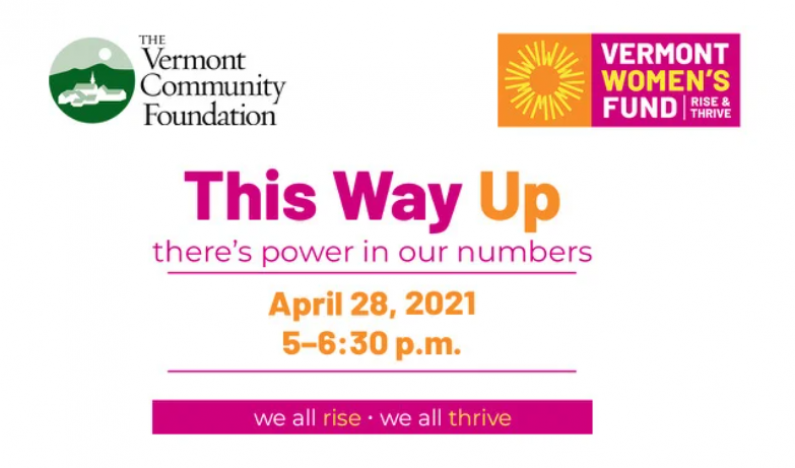 On April 28th at 5:00 p.m. ET, the Vermont Women's Fund and the Vermont Community Foundation will co-host This Way Up, a virtual event to examine the potential of women entrepreneurship, the opportunities and pitfalls associated with business ownership, and why gender impacts financial outcomes. Moderated by Vermont Public Radio's Jane Lindholm, the event will feature four women business owners from southern Vermont.
This topic is a bit of a mystery in Vermont as there is no conclusive data on the number of women-owned businesses in the state. Based on US Census data, the Change The Story initiative issued a 2016 report on "Women Business Owners and the VT Economy," which showed there are approximately 23,000 women-owned businesses in the state.
"There's huge potential for women entrepreneurs to create new businesses, significantly increase their revenues, and hire an employee or two—and we haven't adequately focused on their needs and barriers until now," says Meg Smith, director of the Vermont Women's Fund. "With the right tools and technical assistance, women entrepreneurs can help grow Vermont's economy along with their own communities. And with job losses among Vermont women among the highest in the nation, this is the time to expand women entrepreneurship in our state."
The Vermont Women's Fund and the Community Foundation are excited to have four leaders from this community participate in the event:
Julie Lineberger of Wheel Pad in Wilmington
Jewelz Johnson of Jamaican Jewelz Food Truck and Catering in Bellows Falls
Lisa Lorimer of MamaSezz Foods (and former owner of Vermont Bread Company) in Brattleboro
Nancy Koziol of couch + cork in Bennington
More evidence of women-owned businesses from the region are represented in a gift box that comes with the price of a $20 ticket. Ticketholders will receive by mail a mix of products from Tavernier Chocolates, Small Batch Organics, Dorset Daughters, JJHapgood General Store and Eatery, OWL Energy Bars, and Rosie's Wonders Connection Cards. This Way Up is underwritten by local sponsors: Bank of Bennington, Brattleboro Development Credit Corporation, Mascoma Bank, and Cabot Cheese.