Vermont Women's Fund Hosts 2020 Annual Event Virtually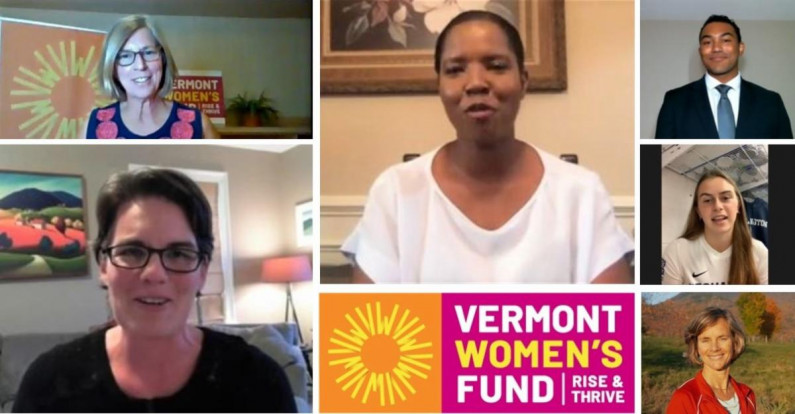 The Vermont Women's Fund moved to a virtual format this year for our annual celebration and we delighted to discover that the enthusiasm and spirit of our virtual audience was alive and well! We had almost 300 viewers that evening, ranging from age 7 – 77+.
Our guest speaker was Briana Scurry, famed goalkeeper for the USNWT '99 World Cup team and equal pay advocate. Briana's stellar career includes two gold Olympic medals and many "firsts" including the first woman of color inducted in the National Soccer Hall of Fame. She is also represented at the Smithsonian's National Museum of African American History and Culture.
These prestigious awards, medals, and championships only tell part of Briana's story. When she spoke to us, it was clear her love of coaching and love of the sport is what drives her. On the evening that she joined us, she spoke to members of the Burlington High School Girls Soccer team, a group that achieved unexpected worldwide notoriety for their #EqualPay movement a year earlier. It was a powerful combination; all of us watching were reminded of the power of sports and that women and girls need encouragement to use their voice to advocate for themselves, no matter what the issue.
Jane Lindholm from VPR was our emcee and skillfully wove Briana's interview with the BHS High School girls experience while taking questions from the audience. We also heard from Skyler Nash, one of our Male Champions for Change, and Sue Minter, executive director of Capstone.
Best of all, the Vermont Women's Fund exceeded its fundraising goal that night! We had a challenge match of $20,000 which we blew past in the course of the evening as the audience texted in their donations. All told, we raised roughly $45,000 which goes back out to the community in the form of grants targeted to advance women and girls throughout Vermont.
Stay tuned for future events from the Vermont Women's Fund, virtual for now and when possible, in person again.