The Vermont Women's Fund to Host Event in Southern Vermont Featuring Teresa Younger, President and CEO of the Ms. Foundation for Women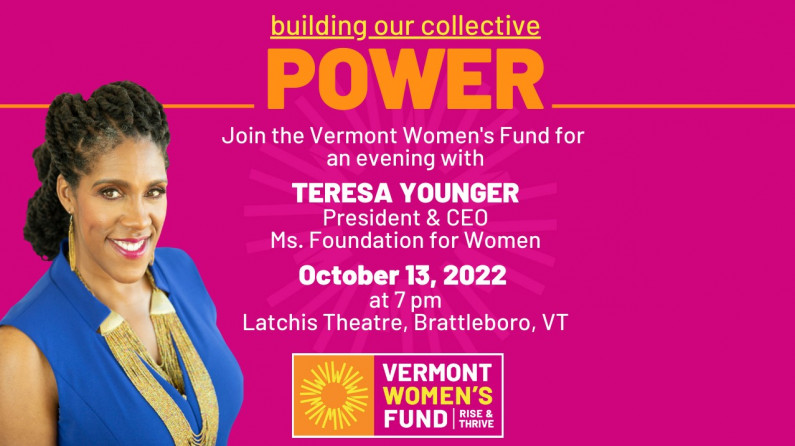 **This event has been temporarily postponed.
The Vermont Women's Fund, a component fund of the Vermont Community Foundation, proudly presents an evening with Teresa Younger, president and CEO of the Ms. Foundation for Women, at the Latchis Theater in Brattleboro on Thursday, October 13, at 7 p.m.
"After her inspiring presentation at our Annual Celebration last year, we are thrilled to have Teresa Younger come to Brattleboro to share her experience and wisdom," says Meg Smith, director of the Vermont Women's Fund. "We have much to learn from Teresa's leadership and the work of the Ms. Foundation—all of which can inform how we fund structural change on behalf of women and girls in Vermont."
Ms. Younger will be joined on stage by Meg Smith for a conversation titled "Building Collective Power." The Ms. Foundation, one of the most recognizable mission-driven women's funds in the U.S., has been a leader in women-centered philanthropy since 1973.
Tickets for this event are $25 and can be purchased at vermontwomensfund.org/oct13-brattleboro.