Vermont Women's Fund Annual Celebration to Feature Best-selling Author and Journalist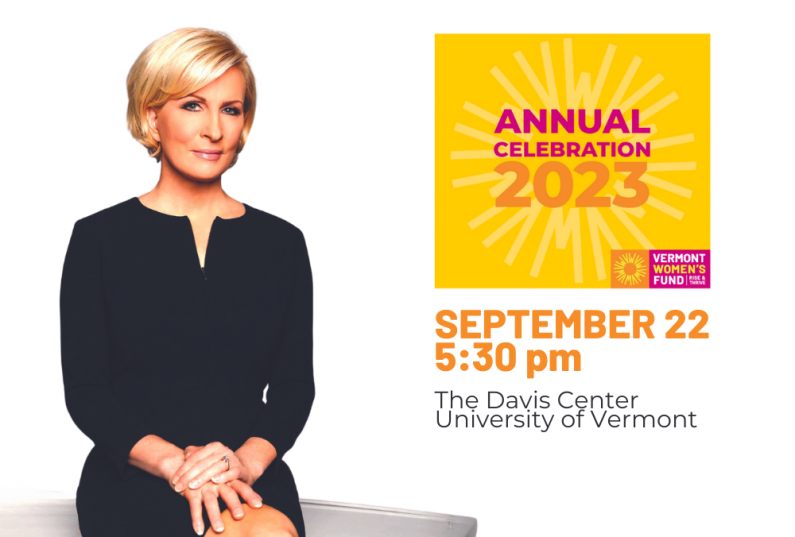 The Vermont Women's Fund will hold its 2023 Annual Celebration on Friday, September 22 at the University of Vermont's Davis Center featuring special guest Mika Brzezinski, co-host of MSNBC's "Morning Joe" and author/founder of Know Your Value.
The celebration will take place from 5:30 to 7:30 p.m. and be emceed by Vermont Public's Jane Lindholm, with music provided by Kat Wright. The Women's Fund, a component fund of the Vermont Community Foundation, is a statewide nonprofit whose philanthropic mission is to advance and achieve gender equity in Vermont. The special guest at this year's annual celebration is known for helping women meet their goals and expand their careers.
"Mika Brzezinski empowers and advocates on behalf of women in business through her movement, Know Your Value," says Meg Smith, director of the Women's Fund. "After career setbacks herself, she harnessed her inner moxie to move forward and now imparts that wisdom and encouragement to millions of women worldwide."
Brzezinski is the author of three best-selling books, including "Knowing Your Value," which reached number one on the New York Times bestseller list for business books in 2011. Prior to joining MSNBC in January of 2007, Brzezinski was an anchor of the CBS "Evening News Weekend Edition" and a CBS News correspondent who contributed to "60 Minutes" and "CBS Sunday Morning." In addition to her weekday anchor work on "Morning Joe," Brzezinski recently partnered with Forbes 50 over 50 as part of her Know Your Value initiative (launched in 2021) to highlight 50 women doing their most innovative, impactful work at 50, 60, 70 years of age and beyond.
Tickets to the Vermont Women's Fund annual celebration include special pricing for students. For details and to reserve tickets, go to vermontwomensfund.org/2023-annual-celebration